I "rescued" two cabinets that I found on Craigslist today, a Double Dragon and a Driving Force.
Neither are games I'm particularly interested in, although I do have fond memories of playing the NES version of Double Dragon. The reason I nabbed them was because of the cabs they were in: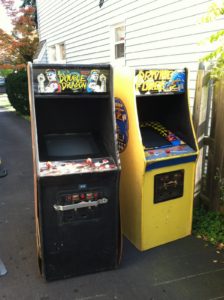 Those coin doors definitely looked like Midway cabs in the tiny cell phone pics on Craigslist… and I was right!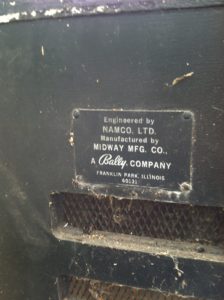 The wood is in pretty good condition on both of them with the exception of the back doors (which is the one piece of woodwork that I could probably replace with my limited skills). Now, to identify what these once were…
The Double Dragon machine had some woodgrain laminate covering up the original side art. Peeling it back a little revealed something yellow-ish: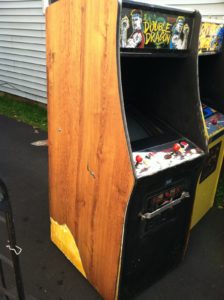 The laminate had lost most of its adhesive, so it wasn't hard to pull it up a bit more…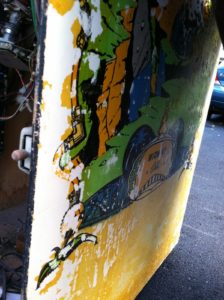 I had a hunch it was a Galaxian, and my hunch proved to be true!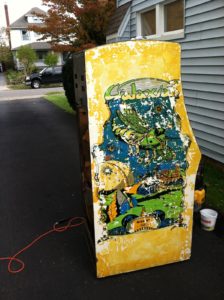 Unfortunately, the glue on the laminate had definitely destroyed the original artwork, which is a shame because Galaxian has some awesome artwork. 🙁 Still, it's nice to know the heritage of the machine. The original power supply for this cab has been cannibalized, though parts still remain, and there's a much newer switching power supply in there for the Double Dragon board.
The other cab, Driving Force, is interesting to me. I've never played Driving Force, but again, it was in a Midway cab. This has been painted over, and there's little bit of art peeking out from the kickplate area, but it's too covered up for me to identify. Luckily, there's a tag on the inside that gives it away: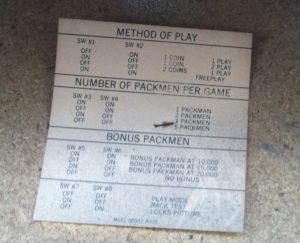 Yes, this used to be an upright Pac-Man. As a side note, I think it's funny how the internal documentation is inconsistent: "Pack-men" vs. "Pac-man."
Restoring these cabs into what they were originally will be a bit of work, but both Galaxian and Pac-Man are classic games. Also, the Double Dragon monitor and control panel could be used for a JAMMA test rig, which would be a nice thing to have. All in all, I'm pretty happy with the purchase!