This is the second restoration that I've done, and the first that I've really documented. Brace yourself for a lot of pictures and prose!
I purchased this Tournament Arkanoid machine from someone on Craigslist back in 2010. It was cheap, and I had always enjoyed playing Arkanoid as a kid. However, the cabinet was not exactly what you'd call… dedicated. The marquee didn't quite fit, and the side art, while it looks pretty decent from afar, is actually hand-painted.
Here's a closeup: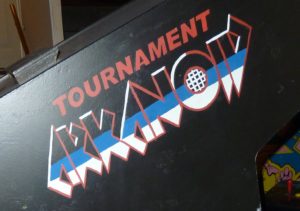 Props to whoever did it – they certainly took their time – but I was curious as to what this thing used to be. Those bright colors underneath the scratches looked promising…
Thankfully, it wasn't hard to figure out, as the inside door had the original instruction sheet!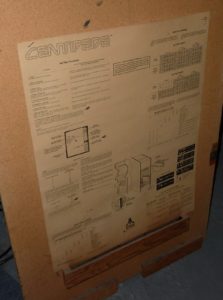 So this was a Centipede cabinet. I'm still not particularly experienced or good at identifying cabs – I'm sure there are plenty who would have known just from looking at the thing – but I was excited that I had this game on my hands! A bit of trivia for you: Centipede was the first coin-op arcade game to be designed by a woman (Dona Bailey).
Unfortunately, very little else remained on the inside of Centipede. The original power supply was still there, but that was about it.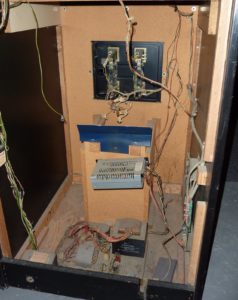 I knew there was plenty to do on machine, but first I had to acquire some parts. I decided to keep an eye out for deals on the KLOV forums, and left it at that for quite a while.
Continued in part 2.